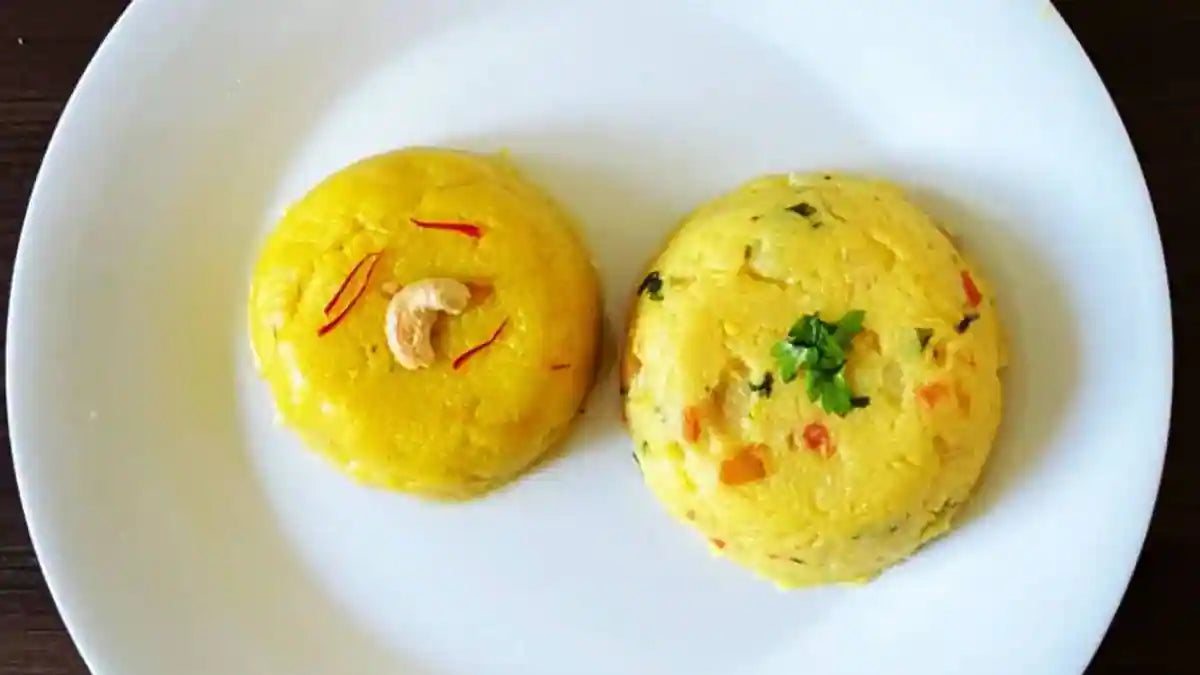 Bengaluru's Most Popular Breakfast Combo
If there is one thing that everyone who visits Bengaluru can agree upon, it is that breakfast is the most exciting time. As the Darshinis and Udupi restaurants open their doors in the wee hours of the morning, people flock in to enjoy their favourite dishes with a cup of piping hot filter coffee. It is no wonder that these quaint restaurants serving up traditional fairs one after another have experimented and created signature dishes that are so unique to the city. 
One such staple is the Chow Chow bath. The concept of combos started a long time ago with this wonderful dish which brings together khara bhath and kesari bhath on a single platter. The combination of sweet and spicy is just what one needs to start the day. Although most homes prepare the two dishes together today, it was not a traditional practice. And, the origin of this classic Bengaluru dish remains unknown but if you ask anyone who has lived in the city long enough, it is ingrained in the culture long enough. 
What's In A Name? 
The word 'chow' certainly rings a bell. It is the American expression for food that gained popularity in the 1960s. In Tamil Nadu, the term 'chow chow' refers to a vegetable named chayote, which in Kannada is known as seeme badnekayi. Interestingly, this vegetable is also known as the Bangalore Brinjal. 
However, the name of this popular Bangalore dish is not derived from either of them. Chow chow is a word in Kannada which means mixture. Usually, when one says chow chow, it means a mixture of fried goodies. Traditionally, chow chow is spicy with some sweet elements to balance the taste. It is possible that chow chow bhath derives its name from here because of the distinct spicy and sweet combination that is presented in it.
Classic Combo Unique to Bengaluru
In other South Indian cities, this combination is unheard of. Even in Chennai, which shares a similar culture of bustling breakfast joints, it is unheard of to serve kesari bhath and khara bhath together. The closest that you can get is a mini tiffin combo that includes a mini dosa, coin idlis and a small portion each of khara bhath and kesari bhath. 
In Bengaluru, the small restaurants along with the iconic MTRs and Kamat's have been serving this dish for several decades now. You can also order them separately in some restaurants. Chow Chow bhath is more than just a combination of two dishes, it is a true Bengaluru experience. 
The Khara Bhath, with the generous dollop of ghee and the saffron coloured Kesari Bhath with pieces of dry fruits and pineapples are a visual delight together as well. The dish is often served with a coconut chutney which adds extra flavour to tie the entire dish together. 
And, for those who have been enjoying the Chow Chow bhath for a while, there is always one lingering question. What will the last bite be- sweet or spicy? And the answer to that leads to strategic planning of every bite, making it one of the most satisfying experiences!