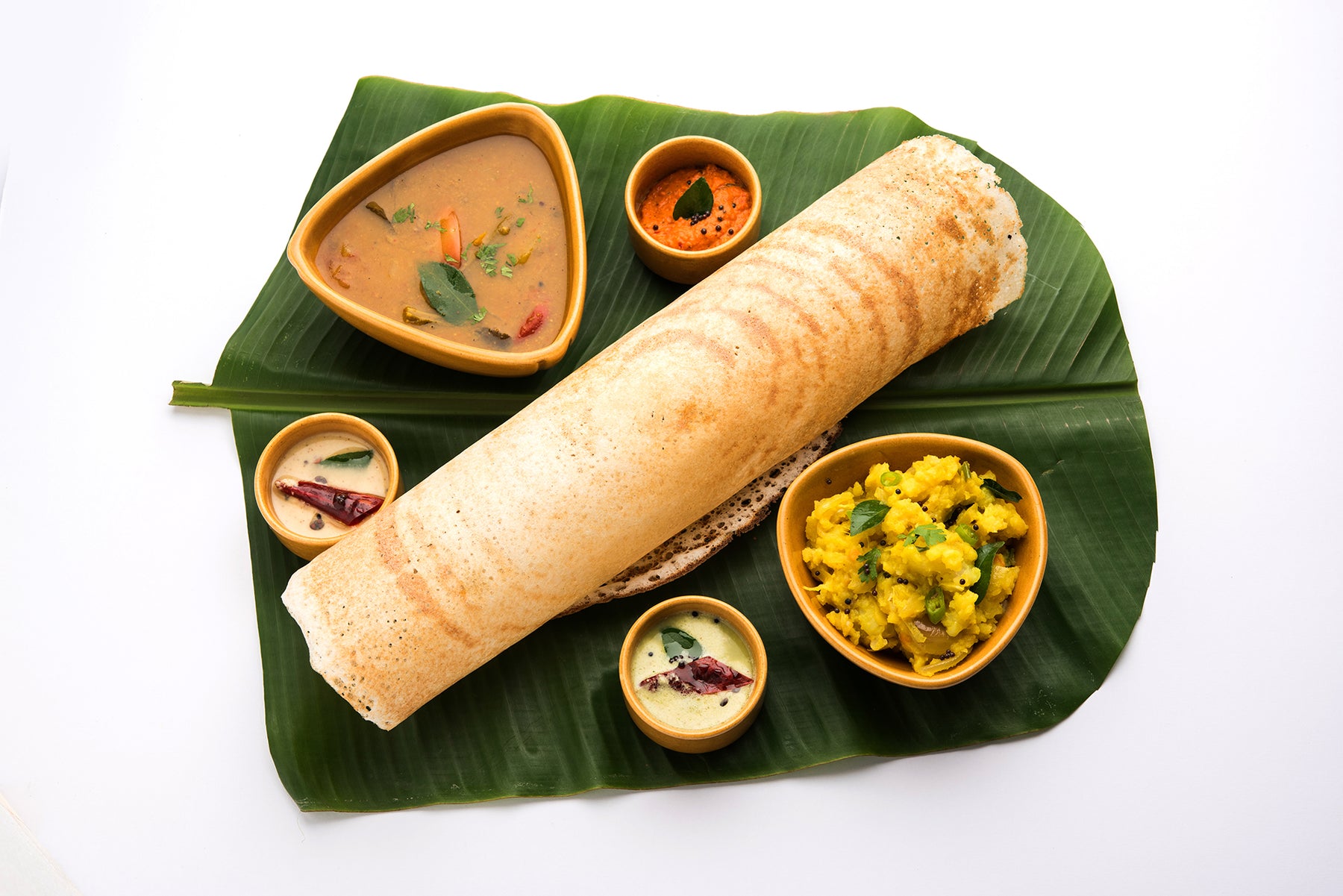 The Dosa Story: From a Sinful Indulgence to a Beloved Staple Food
Food historians have tried to trace the real beginnings of the dosa. Some, like K.T Achaya, say that it originated in the 1st Century AD in the Ancient Tamizh Country. Others, P. Thankappan Nair, believe that the dosa had a rather mysterious and interesting beginning in Udupi, Karnataka. 
A recipe similar to dosa can even be found in the 12th Century Sanskrit text, Manasollasa compiled by Someshvara III. While the debate continues, this article is focused on the Udupi origin story, which is, for the lack of a better word, controversial. 
Dosa or Dosha? 
When food is ingrained in culture, there is bound to be stories and legends associated with it. Even the humble dosa has one of its own. 
A Brahmin cook, who decided to rebel against his religious beliefs, is said to have invented the dosa accidentally. Since they were not allowed to access any alcohol, he tried to prepare his own by fermenting rice. When it did not work like he expected, he did the extraordinary. He poured the batter onto a pan and fried it to make the delicious dosa as we know it today. 
Legend has it that the name dosa comes from the Sanskrit word Dosha which means "sin". 
The Masala Dosa Makes Amends  
The Masala Dosa comes to the rescue of the Dosa after this unpopular legend, in a way! Historians trace the origin of the Masala Dosa to the kitchen of the Mysuru Maharaja. After an extravagant party at the palace, there were several leftovers. The Maharaja, known to be a good man, did not want all the food to go to waste. 
He handed his cooks the responsibility of coming up with a creative solution to this problem. And, they rose to the occasion by stuffing leftover potatoes into the dosa to create the glorious Masala Dosa! 
The Dosa Becomes Popular Across India
Dosa, whatever the origin may be, was one of the most popular dishes in South India. Today, however, the story is different. People from all parts of India, and even the world rave about this light, crispy crepe. 
This increase in popularity came about in the 1930s with the opening of the Madras Cafe in Connaught Place. It was started by a Punjabi immigrant and became the first ever restaurant in the northern part of the country to serve South Indian food. In the same period, it was also introduced in Mumbai by K.Krishna Rao who started a popular chain of Udupi hotels in the city. 
Today, the dosa is an inseparable part of Indian cuisine, enjoyed by millions across the globe. For us, at Adukale, our variety of dosa mixes is a way of bringing this beloved staple food into as many homes as possible. No mess, no prep, just delicious, authentic dosas that you can enjoy whenever you want to.