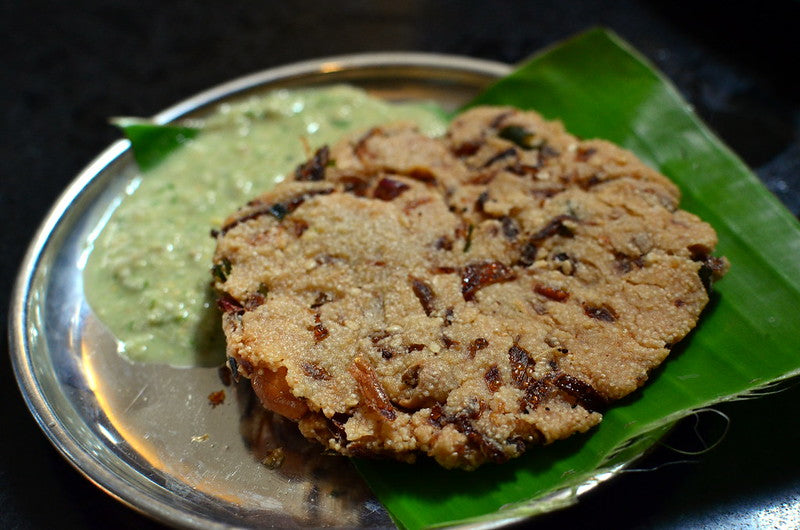 The Maddur Vade—A Much Needed Accidental Invention!
How many snacks get associated with the name of the place they originated in? 
Maddur Vade that has a crispy, bit hard crust and soft from the inside has become a go to favorite for Adukale patrons, but not everyone would be familiar with its humble, curious origins.
Maddur Vade was invented by Shri Ramachandra Budhya on a railway platform, way back in 1917! Shri Budhya used to run Vegetarian Refreshment Room (VRR) at Maddur railway station in 1917 to sell pakoras and idlis. The business was quite good as every passing train run on meter gauge tracks stopped at Maddur to fill up the water tanks.
One day, a train arrived early and Shri Budhya's Pakoras weren't ready. He didn't wish to lose out on customers and came up with an idea to roll the dough flat (as the cone shape of the pakora takes longer to make and cook) and fry it like a vada. It became popular among the passengers and that's how Maddur Vade got its name.
Shri Budhya and his family ran the Vegetarian Refreshment Room (VRR) from 1917 to 1948. After 1948, the HD Hebbar family took over, but was closed in 2017 due to competition from other vendors and depleting demand due to less no of trains stopping at the Maddur station. However, Shri Hebbar's grandson Jayaprakash, started the eatery called Maddur Tiffanyss in 1987 on the Bangalore-Mysore highway which is still going strong. 
Interesting Tidbits
Usually, Vade is made after grinding or soaking dals but Maddur Vade is an instant vade that retains its crispiness and can be served anytime

While making the dough, if you pour a little bit of hot oil, it will impart that extra crunchiness to the Maddur Vade

There's no Maddur Vade without onions — the caramelized onion sliced long and thin adds to the taste and is probably why it tastes so, so good!

The Adukale Maddur Vade may not look as thick as the regular Maddur Vade, but that's because of the technicalities with the shelf life. We have tweaked the recipe slightly while retaining the same original taste!

You can buy Adukale Maddur Vade by tapping this link.
Featured Image: "Special Maddur Vade, Maddur" by thirty5millimetre is licensed under CC BY-NC-SA 2.0