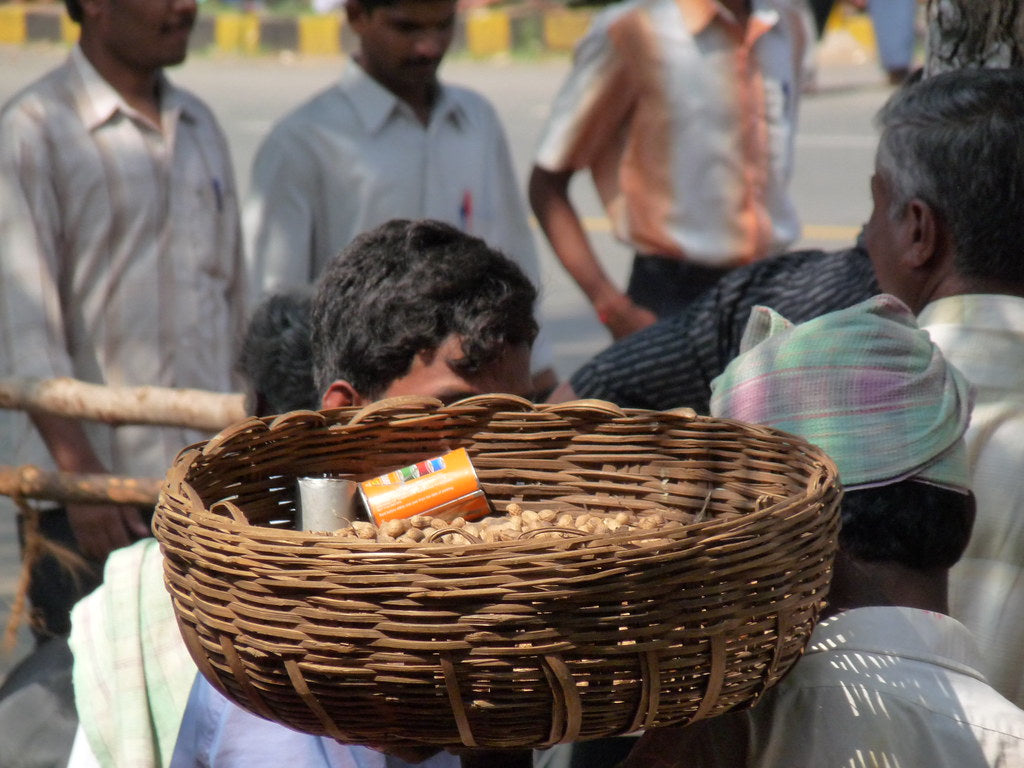 Congress Kadlekai — How This Bengaluru Special Snack Got Its Name!
Many folks don't know why Congress Kadlekai is called such and whether it has anything to do with the Congress party. Well, if something is named after a political party, it must be having something to do with it. 😀
For those who are uninitiated, Congress Kadlekai is the quintessential Bengaluru snack. The recipe is quite simple: it's split Groundnuts (also called Peanuts) – de-skinned, roasted, and spiked well with a tangy spice mix and garnished with fried up curry leaves. 
A very healthy snack, it has its origins in the Iyengar bakeries dotted across old Bengaluru that were an integral part of the city's culture, but now slowly getting replaced with hip cafés and eateries. 
Why is Congress Kadlekai named so?
Why was it named Congress Kadlekai? Well, there are a bunch of stories—
In 1969, the Congress party headed by Indira Gandhi split into two parts: The original party was called INC (O) headed by K. Kamaraj and the one headed by Indira Gandhi was called INC (R). And just to make light fun of this, the Kaldekai was called 'Congress Kadlekai' because the groundnut is always split in two parts. 
Another story is that during the Emergency period this was the go to snack at party meets and hence the name.
Whatever is the story behind the name — Congress Kadlekai is absolutely unputdownable as a snack. And what's more, it's extremely healthy and delicious as well.
The Origin & Other Uses
The credit for this recipe goes to Srinivasa Brahmin Bakery in Gandhi Bazar [1] (a bustling, chaotic, yet totally organized bazar in the heart of Bengaluru — more on this later, perhaps).
When faced with a Maida Quota system in the late 60s, the bakery decided to add this delicious snack to the menu to boost sales.
Most Iyengar Bakeries and Condiment shops (Iyengar bakeries have been the trademark of the Bengaluru city for the past 100 or more years! It's noted down that the first one was established way back in 1898 on Chikpete main road called, BB Bakery) also sell KBC (Khara Bun Congress), which is a freshly baked masala bun, smeared with butter and stuffed with Congress Kadlekai. 
It can also be added to Churumuri (lip-smacking puffed rice snack, a popular street food across Karnataka) to give an extra flavor.
One can also make a chaat called Congress Masala out of it by mixing it with tomato, grated carrots, lime juice, coriander, and onion.
The Bull Temple and Kadlekai
"File: Basavanagudi kadlekai parshe, Bangalore.JPG" by Siddarth.P.Raj is licensed under CC BY-SA 3.0
At the famous Bull Temple, usually around late Nov on the last Monday of the Karthik Masa, an annual Groundnut Fair (Kadlekai Parishe) is held wherein hundreds of farmers bring Groundnuts (roasted, salted, split, whole, fried, etc.) to sell. 
The story behind this annual festival is even more interesting: in the past, Basavanagudi was surrounded by villages like Sunkenahalli, Guttahalli, Mavalli, Dasarahalli and other places where groundnut was cultivated. On every full moon day a bull would charge into the groundnut fields and damage the crop. The farmers then offered prayers to Basava (Nandi) to stop this and pledged to offer their first crop.
Subsequently, an Idol of Basava was found close by. It has been said that the Idol was growing rapidly, and the farmers nailed an iron peg on the head of the idol (which is visible in the form of a trishula even to this date). Legend says that the night on which this Kadalekai Parishe used to end, Lord Basavanna — the Big Bull, used to come in the animal form and eat up all the groundnuts and peels left overnight on the streets. [2]
***
[1]: We have our own experience store right in the heart of Gandhi Bazar. Please tap this link for more information
[2]: Taken from Wikipedia
[3]: Cover image by suhas_s101 is licensed under CC BY 2.0